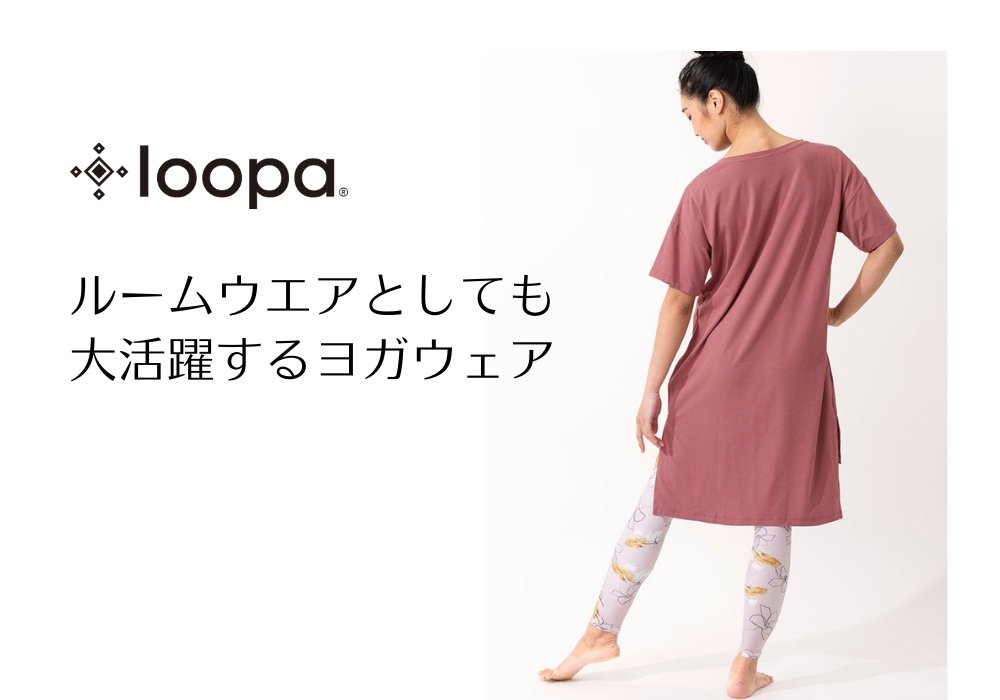 Recommended yoga & room wear -Fashionable home time ~
Recently, the opportunity to go out little by little has increased, but many people, such as telework and online lessons, are still long. 

Therefore, this time, recommended cute cute as a room wear.LoopaIntroducing yoga wear. 

Tops
Cotton smooth and pleasant touch. 
Stretching and outstanding to move. 
I am happy to have a three -quarter sleeve that covers the body shape and the upper arm that is worried. 

You can wear it with a drop shoulderTShirt dress. 
Recommended design for everyday wear with a light comfort. 
It also supports maternity.
Warm, gentle seamless knit material. 
Long -sleeved border with a soft clothTshirt. 
It is an oversized and long length, so it covers the waist and hips you care about. 
It has quick -drying stretch properties and is also recommended for online lessons.
Bottoms edition
Outstanding fit with zero tightening feeling that fits into bare skin. 
You can get a beautiful leg effect with a gentle semi -flare design like an adult. 
It can be used even if the folded waist is extended and wraps the stomach with a moderate fit, so it is also recommended for maternity wear.

Tapered pants that are attractive with light and high -quality materials like silk. 
The silhouette that falls straight from the hip to the ankle will show the effect of wearing thin. It is a design that fits people of various body types.
Elegant beautiful silhouette wide pants with flare line that spread slowly from the base of the foot. The silk -like luster and touch create a luxury. 
Because it is a material that does not spread too much, it is easy to move and is active in all situations. 
It can be used even if the folded waist is extended, so cover the waist you are interested in.
Accessory edition
A versatile sock that prevents slipping because the soles have a silicon non -slip. 
Recommended for home yoga because you can enjoy chilling and stably yoga. 

Sustainable hair band that considers the natural environment. 
Recommended for exercise because it has excellent elasticity and quick -drying fabric. 
Since it is done by hand from sewing to dyeing by hand, the pattern is different one by one, so you can enjoy only one design in the world.